Turi Siligato, a man "gilted with a knife"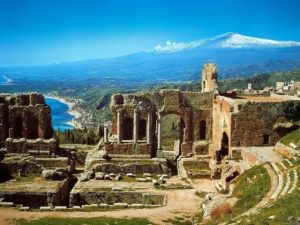 Greek Theater of Taormina
Salvatore (Turi) Siligato is one of those rare persons who make clear what they think. A man "gilted with a knife" as I like to say, an impressive man with the strength of a Sicilian guy proud of his origins and of what he does. In a part of Taormina (famous tourist resort on  the Eastern Sicilian coast) away from fwhere busloads of tourists arrive to buy souvenirs or visit the Greek theatre, far from the chaos of gelato and tambourine shops, you will find this self-taught chef who is  constatly striving to put the flavor of his native land on the table while researching just the perfect ingredients.
While I'm writing about this wonderful chef, I can't hold a smile thinking about the time spent in Turi's reastrurant. As soon as I met him and exchanged a brief chat, he suddenly disappeared to come back wearing an undershit, just to stay cool while we were sitting outside his restaurant in the summer "frame" of the summer in Taormina. While I was talking to him, I can assure you, I've seen for an instant, the ocean in his eyes.
As you step inside the "osteria" Nero D'avola, you can see some of the fantastic fresh products that represent the style of this chef in love with the place where he lives.
If you happen to pass by this restaurant when it's about to open, and you are a bit lucky, you can see some farmers from nearby Etna volcano, or some others, like fishermen and wine makers, stepping insiede to bring some fresh strawberries or some local wild groupes.
After a long chat enjoying the wonderful evening, I climbed the stairs to arrive in the astonishing terrace, ready to enjoy the art of this chef. So, starting with the tuna tartare , and raw shrimp , avocado and Sicilian oranges, fried violet potatoes and courgette flowers and then octopus tartare and paprika and a lemon roulade, tomato and bottarga ( ancient way to preserve the fish eggs in a dry and salty solution) , I let him fascinate me with this fantastic meal. After all these delicacies, the fresh fish arrived. Comb fish and sardines, commonly associated to a peasant kitchen, are rediscovered in unexpected ways.
While I was waiting for some others dishes, I had the honor to look inside the small but efficent kitchen, having the chance to see these simple but genuine raw materials become the uniques dishes I just tasted. In front of me, fishes and fruits releasing thousands of different flavors were passing by and the whirlwind of colors was indescribable.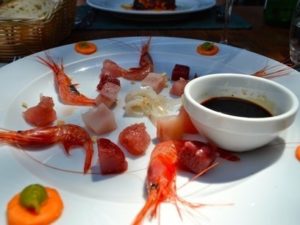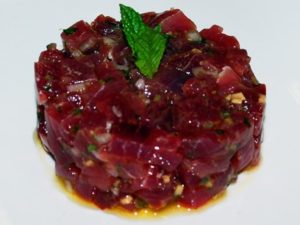 At the end of this perfect experience, I admit that the only thing I was missing, was some really soft and relaxing music to match the wonderful light of the setting sun. I could not end thinking about this and suddenly someone started playing Chopin somewhere. I went down the stairs and I was fascinated to see that the same person who just a few minutes eartlier was creating new and unique dishes, was now playing the piano, while laughing with some friends. An artist is always an artist and this Sicilian guy certanly is one! The evening was ending and while Turi was playing the piano, the sun was slowly going to sleep among the waves of one of the most beautiful scenarios that this land has to offer.