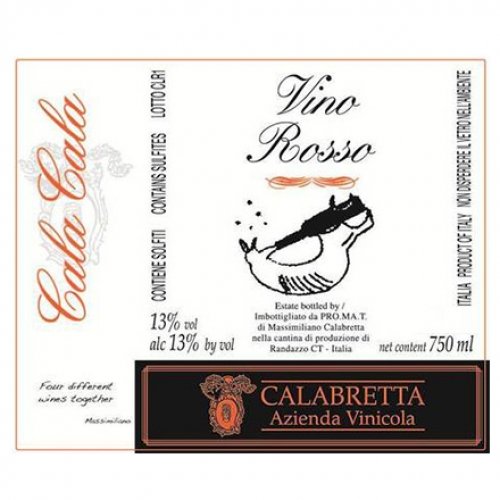 This is a wonderful example of two great grape variety, the Nerello Mascalese and Nerello Cappuccio (two of the three main red grape variety of Sicily, Italy).
Italian wines are known to be a bit harsh sometimes and not very friendly to the palate of many people, especially those who are just getting into wine.
High acidity and strong tannins, together with a long finish, typical of Italian wines, however are prone to produce great wines that can age well and that are usually very reasonably priced (I am talking to you, French wines from Bordeaux…cough cough…).
This wine comes from vines that are an astonishing 100 years old on average and give a deep red color. The minerals of the lava soil where the vines are grown give a unique taste you will not find in any other region. Cala Cala (Sicilian dialect for a drink that goes down easily) is great by itself but, as for most Italian wines, you will need food to balance the tannins. The acidity and minerals of this wine call, however, for food that has some fat or acidity in it. My kingdom for a dish of fresh pasta with boar sauce accompanied by this wine!
On the nose, the wine is strong and lightly pungent. Hints of leather and coffee are there thanks probably to the light oxygenation given by the three-year wood barrel aging. Very ripe strawberries and cherries are there too. On the palate, it has a full body, filled with minerals and tannins, strong but never overwhelming. Again, strawberries, cherries and this time also black cherries, blueberries and dates.
The greatest thing about this wine, apart from tasting delicious, is that, being declassified from the Etna Rosso DOC, the price is great, $17.99 on average and it is a great way to start enjoying the wines from one of the most interesting wine regions in the world.
If you find it, grab a couple of bottles and, trust me, you will not regret it!
As usual, I am not paid to promote any of the wines I talk about.