We all need a Barbera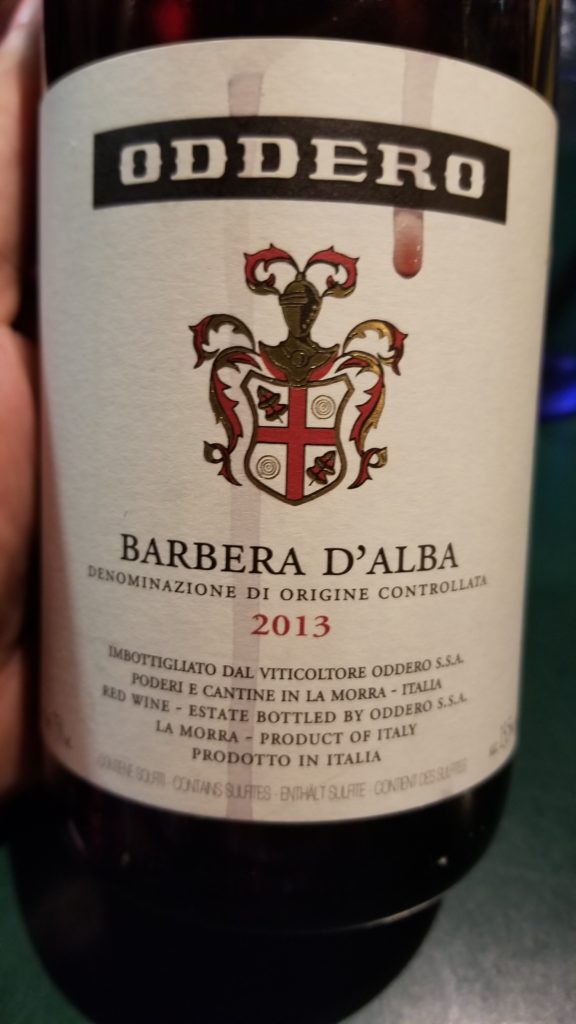 Picture courtesy of a great night enjoying wines!
Italian wines are "difficult" – I get that a lot!
With generally high acidity and tannins, full body and not many tropical fruits that many love, Italian wines are the next step in a wine lover development.
Don't be scared though, they can be easy to enjoy and an absolute blast, especially if paired with winter food.
The Barbera, a dark-skinned wine grape, is among the best of the best in Piedmont and a key D.O.C that will become one of your best friends.
Diffused all over Italy, Barbera is a vine that can produce astonishing wines. Most of the times it is best to enjoy wines from this grape while they are still young. You will appreciate the tartness, brightness and complexity that this relatively inexepensive wine can offer.
There are many different Barbera D.O.C.s all over the Piedmontese region. A few of the most popular are: Barbera d'Alba DOC, Barbera d'Asti DOCG , Barbera del Monferrato DOC, Piemonte Barbera DOC…you got the idea!
I consider Barbera the middle child between Nebbiolo and Dolcetto, with the relatively easy drinking vibe typical of Dolcetto and the complexity of Nebbiolo.
This grape variety is great when enjoyed during the winter thanks to all the available food pairings – from roasted beef to stew and mushrooms just to name the most common.
Let's get to the real protagonist now: Oddero Barbera d'Alba 2013.
Grown from 40 years old vine in the south of the Piedmontese region and macerated for 15 days, this wine is as good as 15$ dollars can get!
As a generous woman, this wine is seductive and needs to be enjoyed while young and adventerous. 
It should not come as a surprise that Barbera is a feminine noun in Italian!
A full body wine with an intense ruby colour. The tannins are vibrant and sustain and elevate the fully mature, yet not over ripe, fruits like blackberries, blueberries, cherries, and strawberries. The light pepperedness and minerality complete the flavor structure with a note of freshness.
The balanced tartness makes it a long lasting wine with a soft and elegant finish.  An amazing pairing with mushrooms, duck, game birds, and many other favorites of the Piedmontese cuisine. I personally tried it in multiple occasions with big games and it really keeps the pace.
Even if meaty and hearty flavors are an easy pairing with this wine, it can be great with pasta dishes (hey, I am Italian after all!), especially ones with eggplants.
Essentially, a no brainer to drink everytime you are enjoying a meal with friends, especially if your friends are not too funny!
Cheers!