If looking at the waves breaking on the rocky beach brings us back in time, drinking this wine while doing that, will engrave that experience in our souls.
I had never been particularly familiar with Greek wines, before spending two weeks in that beautiful country. Abound with the friendliest people, great food, and a feeling I have found nowhere else. I definitely want to go back.
Santorini, from where this wine originates, is a volcanic island with a warm Mediterranean climate and strong wind. Vines are pruned very low on the ground to protect them from the Meltemi, a strong, dry wind that blows from mid-May to mid-September, North to South.
The rocky, lava soil and the warmth of the climate, all combine to make wines of exceptional character. The freshness and acidity reminds me a lot of the wines from the slopes of the volcano Etna, in Sicily.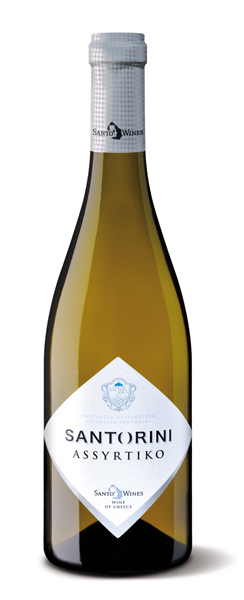 I had the pleasure of enjoying this wine, 100% Assyrtiko, with a traditional Greek meal in Santorini. Assyrtiko is the main, noble white variety from Greece. I actually enjoyed two different bottlings of this wine with some friends, the 2015 as well as the 2016 vintage.
The 2016 was a fresh combination of the perfect acidity and fresh citrus fruits, that went hand in hand with the tzatziki sauce (please, I want more), fish, and shellfish. This dry wine has a full body, perfect tartness, and is beautifully balanced.
The herbaceous flavors, the minerals, hints of jasmine, lime and chalk, make this wine wonderfully complex. If you care to venture further (as I had the pleasure of doing) one will also find cucumber, lemon, vanilla, grapefruit…I could go on! But please, take the time to experience it for yourself!
Overall, this is a great wine; and the price helps, making it an easy pleaser for every occasion.
The 2015, though still very good, has lost some of its freshness and fruit, even if the high acidity helped to preserve it.
Enjoy it young!
As usual, I want to remind that I am not payed to talk about any wine.